SERPENS
"The Ferrari is a dream. People dream of owning this special vehicle and for most, it will remain a dream apart from those lucky few."
― Enzo Ferrari.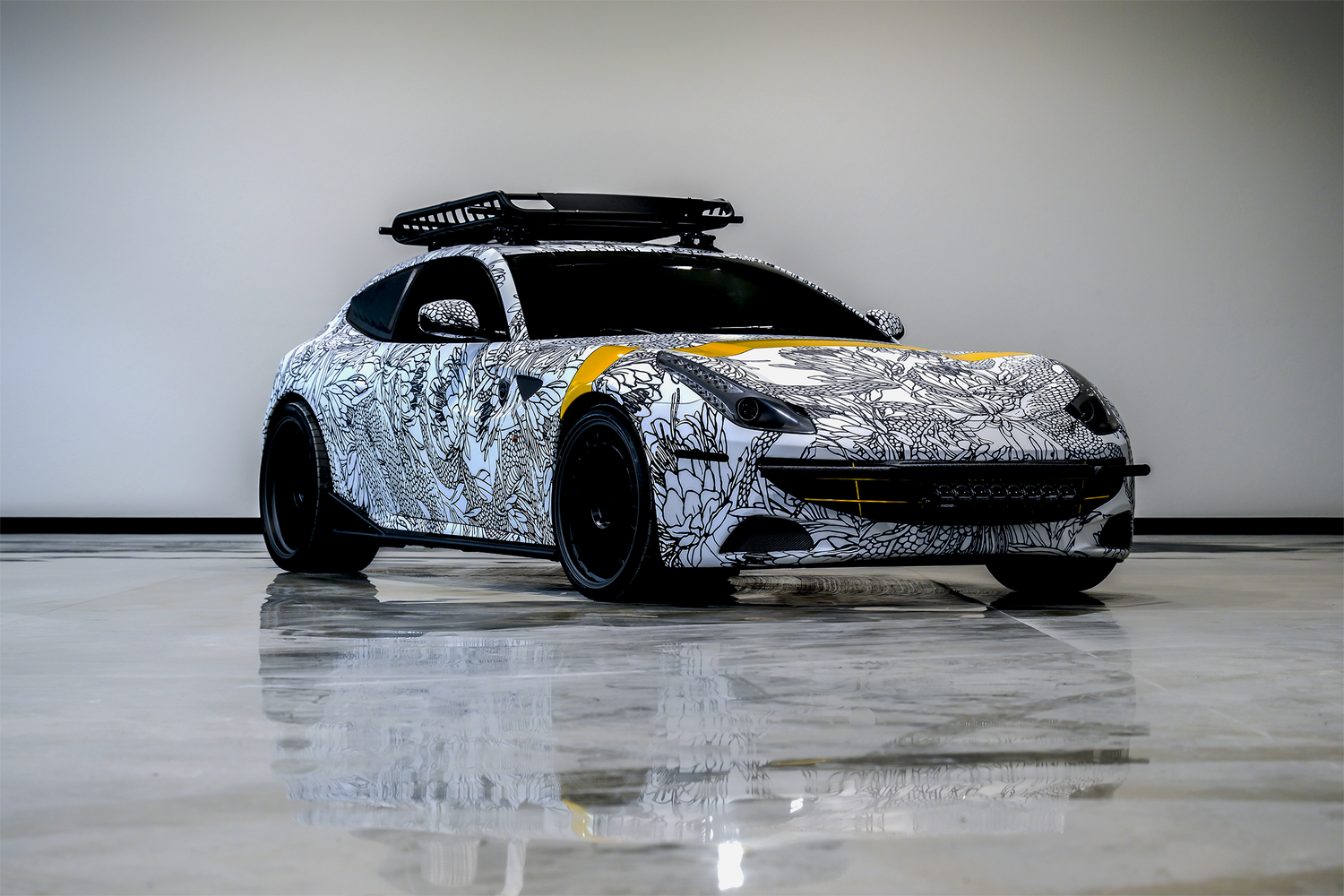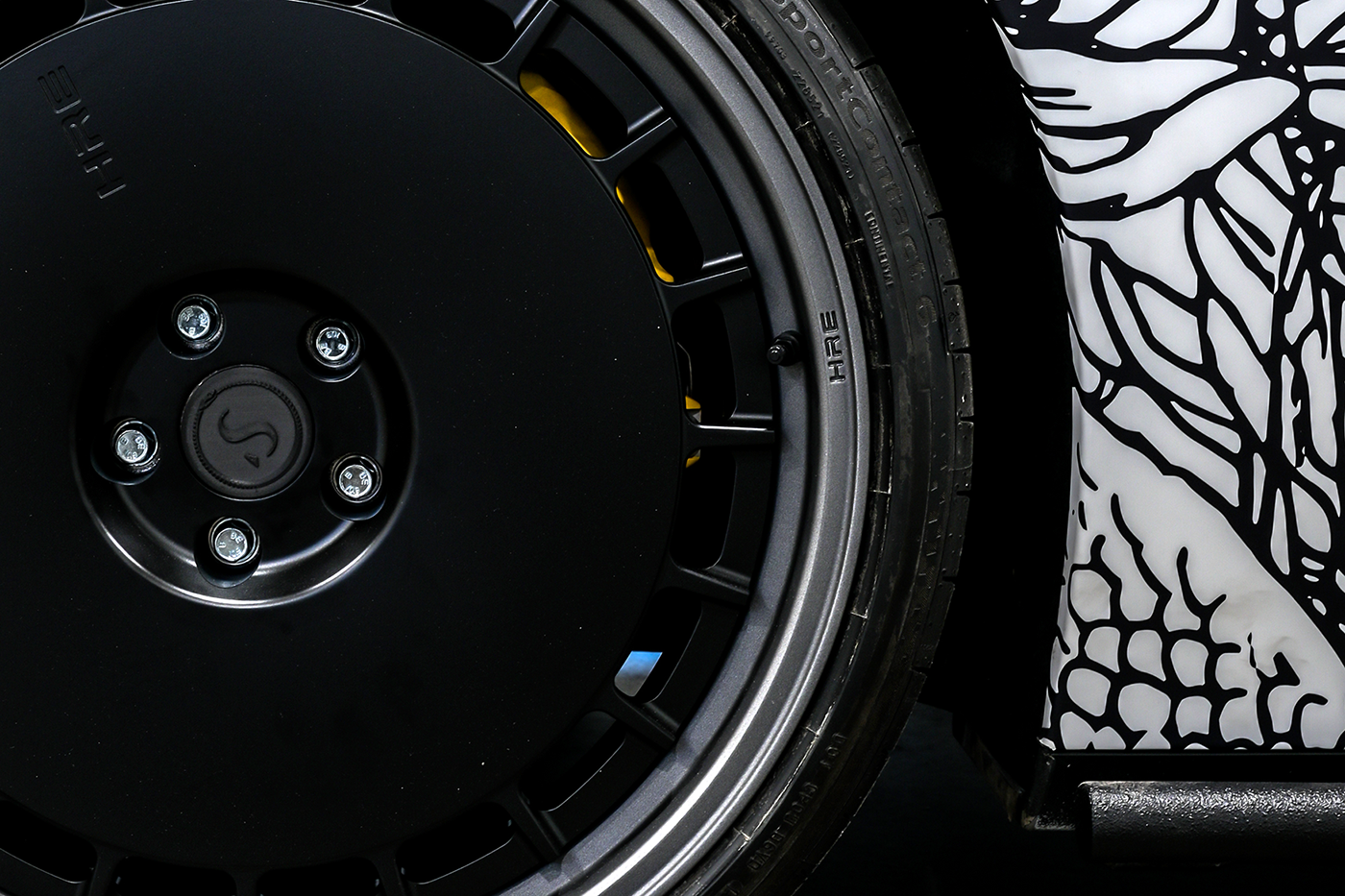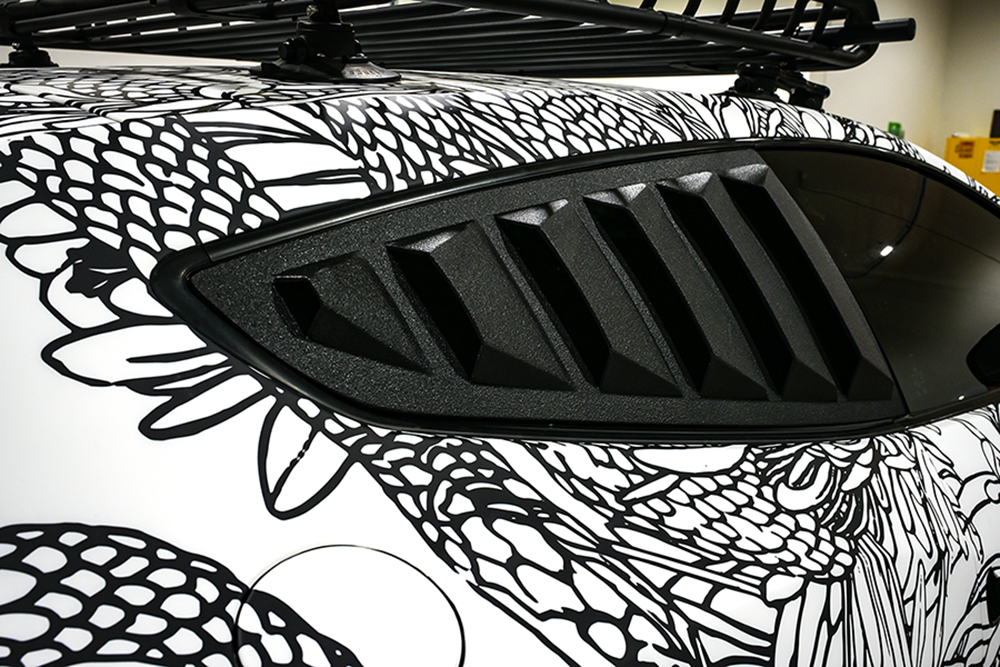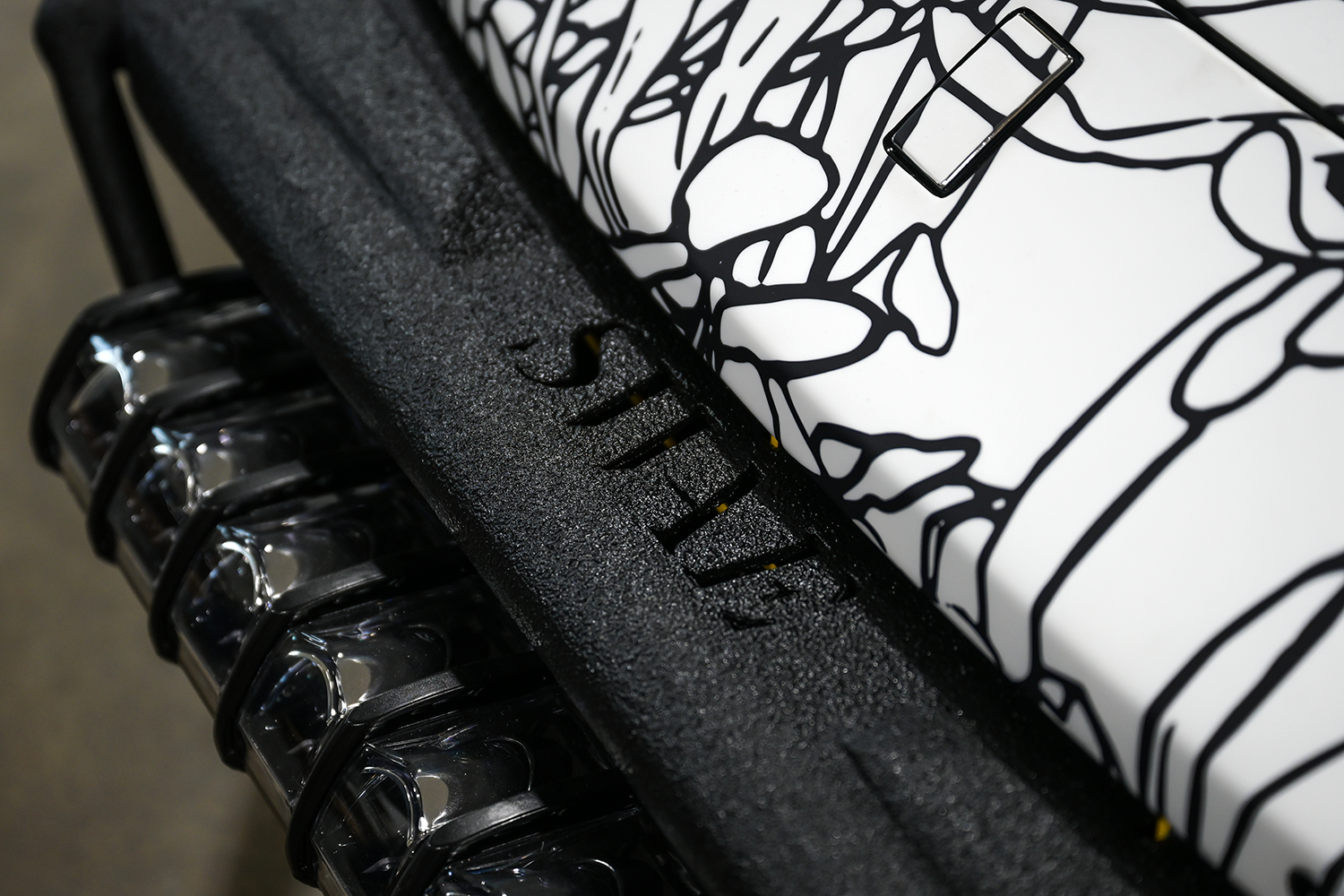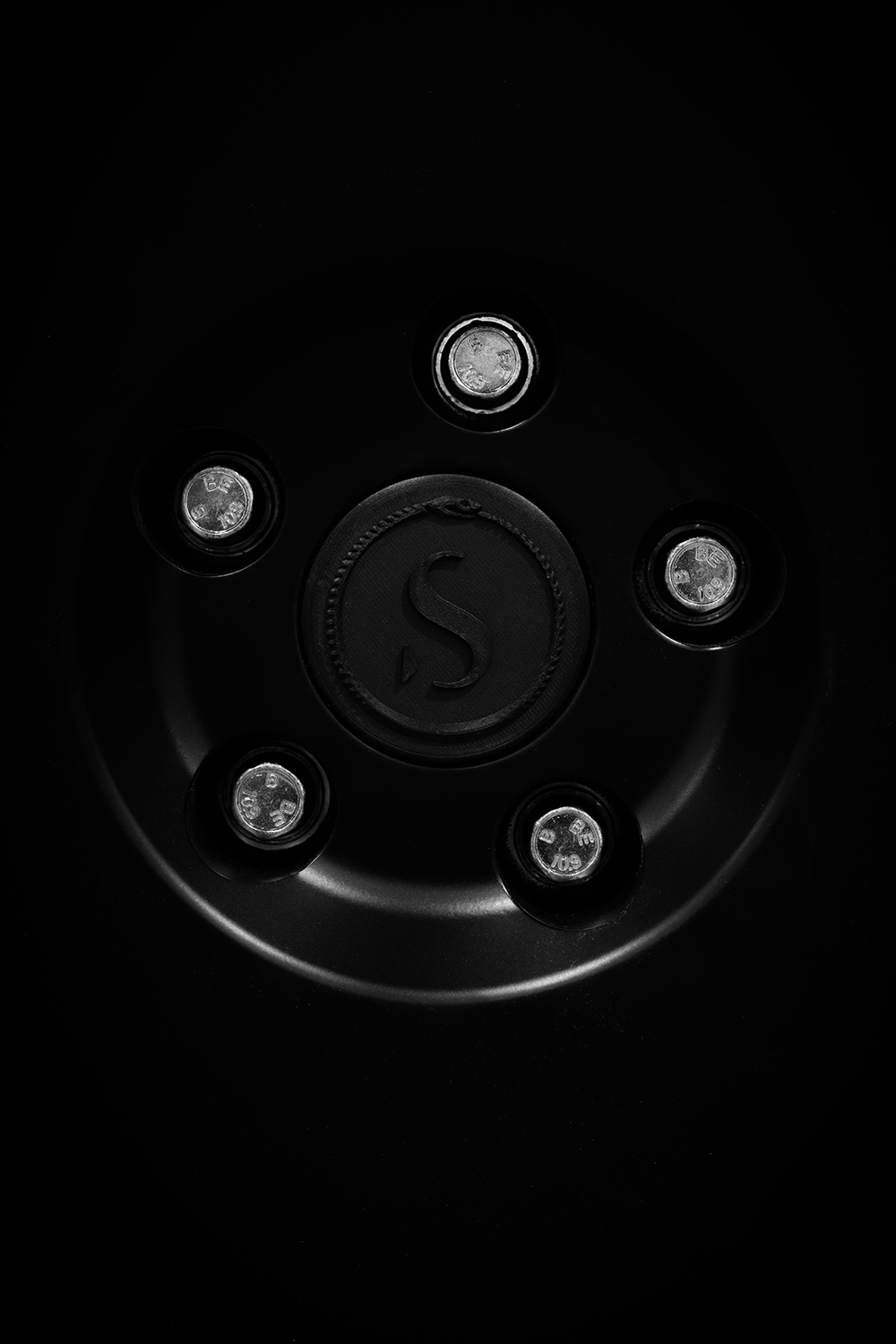 Luxury Meets Backcountry.
The roar of a V12 engine is deafening as you step on the ignition of a Ferrari FF. Zero to sixty in 3.7 seconds has never felt more exhilarating, throwing you down nearly empty highways past farmhouses and towering mountains. As the background begins to blur and your heart races, you and this beautiful machine form an almost symbiotic relationship. This is how you chase your dreams.
The epitome of SWAE - A vehicle designed to bring luxury to the outdoors. A revolutionary 4WD system allows the FF to keep its class while empowering the driver to make tracks on roads less traveled. Ferrari started the dream in 2011, pioneering this one-of-a-kind offroader, and SWAE carries on the mantle of excellence. Custom fabrications, 3D printed emblems, intricate wrapping, and countless other special touches create another groundbreaking vehicle destined for goldRush rally.
The foundation of SWAE lies in relentless pursuit, an unwillingness to compromise on the realization of dreams. Montana roots often put that pursuit in indirect contention with terrain and weather unsuited for supercars. This custom FF responds to those challenges - a triumph in design and capability. Fully customized in-house by a talented team of auto mechanics, designers, and engineers, SWAE is proud to reveal this project to the world.  
Ferrari may not like it, but everyone else can't stop staring.
Treading on Sacred Ground.
Ferrari is particular about their fleet. Even after you've purchased one they consider it their own. They view it as a part of their legacy - an enduring statement of precision engineering. This attitude of Ferrari's cars being a part of their legacy has deep roots. Enzo Ferrari himself was so superstitious he would watch over the destruction of every crashed racing Ferrari to make sure the bad luck was terminated. 
Nowadays, the company has a reputation for taking action against owners who modify their Ferrari's. Do so without Ferrari's permission and you will find yourself on the wrong end of a cease and desist letter. In Ferrari's opinion, while you may purchase the car, it still stands as their intellectual property. 
And judges tend to agree with them. After receiving a cease and desist order, world-famous DJ Deadmau5 had to remove all custom modifications from his Nyan cat-themed Ferrari 458, dubbed "Purrari." Ferrari even sued a small charity for naming rights after they announced they would be calling their new SUV a Purosangue, the Italian word for a thoroughbred. Ferrari recognized that the Purosangue charity had the name first and still managed to win the case. 
In other cases they have pursued more creative resolutions. In the Miami Vice television series, a kit car resembling a Ferrari 365 GTS/4 Daytona was actually a Chevrolet Corvette C3 chassis attached to a Ferrari body. Ferrari found out and filed a lawsuit with a curious stipulation - if Miami Vice blew up the Corvette they would drop the case. Needless to say this made for memorable television as James Crockett's Ferrari was blown sky-high on the show. Ferrari then donated two of the now-iconic 1986 Ferrari Testarossas to the show. 
SWAE is rooted in the ability to break access barriers and provide an opportunity for everyone to chase their dream. This tendency to exclusivity is something we actively fight and have no intention of shying away from if confronted. That isn't to say we don't carry massive respect and admiration for the Ferrari Company and what they have done for racing and cars in the superclass. We just approach the sharing of our work a little differently. 
The SWAE Ouroboros.
Rich with cryptic and historical meaning, the ouroboros symbolizes rebirth, immortality, eternity, protection, self-reliance, unity, and nature's cycles. It's an ancient circular symbol, dating back to 5000 BC, which depicts a snake or dragon eating its tail. Archaeologists discovered the oldest known example of an ouroboros on a jar that is possibly 7,000 years old.

For SWAE, it is a reminder to constantly reinvent and reexamine. SWAE follows a relentless pursuit to discover new solutions and adventures previously unreachable to the world. But, with each success comes a new opportunity, with each failure a new lesson, and with each idea a new challenge. And so on, and so forth, until the end of time.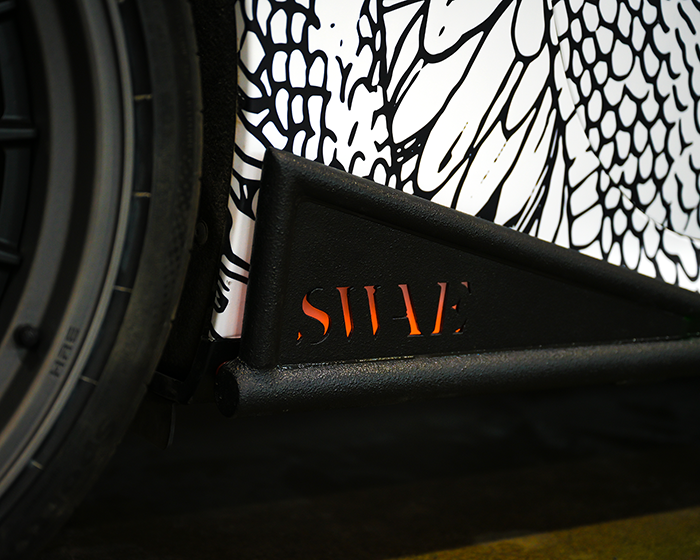 Off-Road Equipped.
All-terrain rock sliders fabricated in-house allow The Serpens FF to go places no Ferrari should. Steel welded onto the FF frame, The rock sliders are flanked by custom 3-D printed inserts adorned with the SWAE wordmark, conceptualized and made on our Markforged printers. Additive manufactured louvers adorn the rear windows, and a metallic SWAE word mark is embedded into the bumper letting the world know who just passed them on the highway.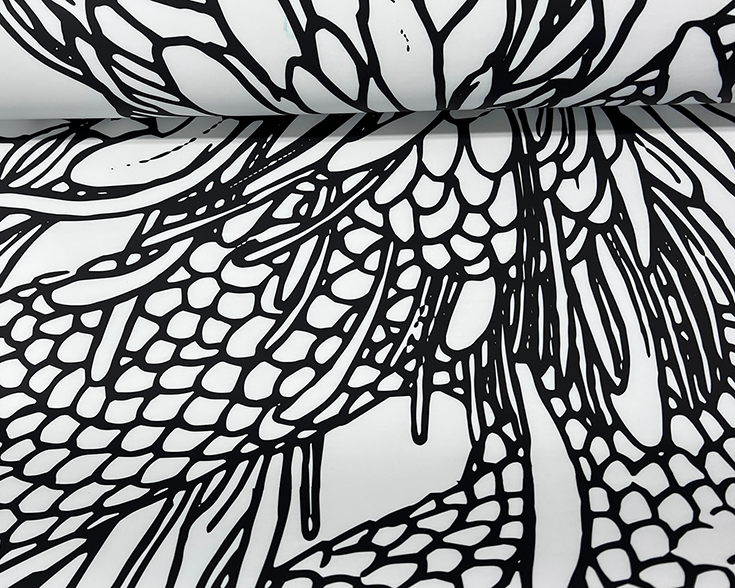 Smooth Like Satin.
Adorned with a custom SWAE repeat pattern, SERPENS is as mesmerizing standing still as it is at 100 miles per hour. This pattern emblazoned with roses and the scales of a serpent was crafted by designer William Bahn specifically for SWAE, locking up perfectly with our Ouroboros Tee. Painstakingly wrapped in-house by SWAE Automotive Specialist Colton Hermosillo, the exterior of this car is the result of more than 50 hours of design and application.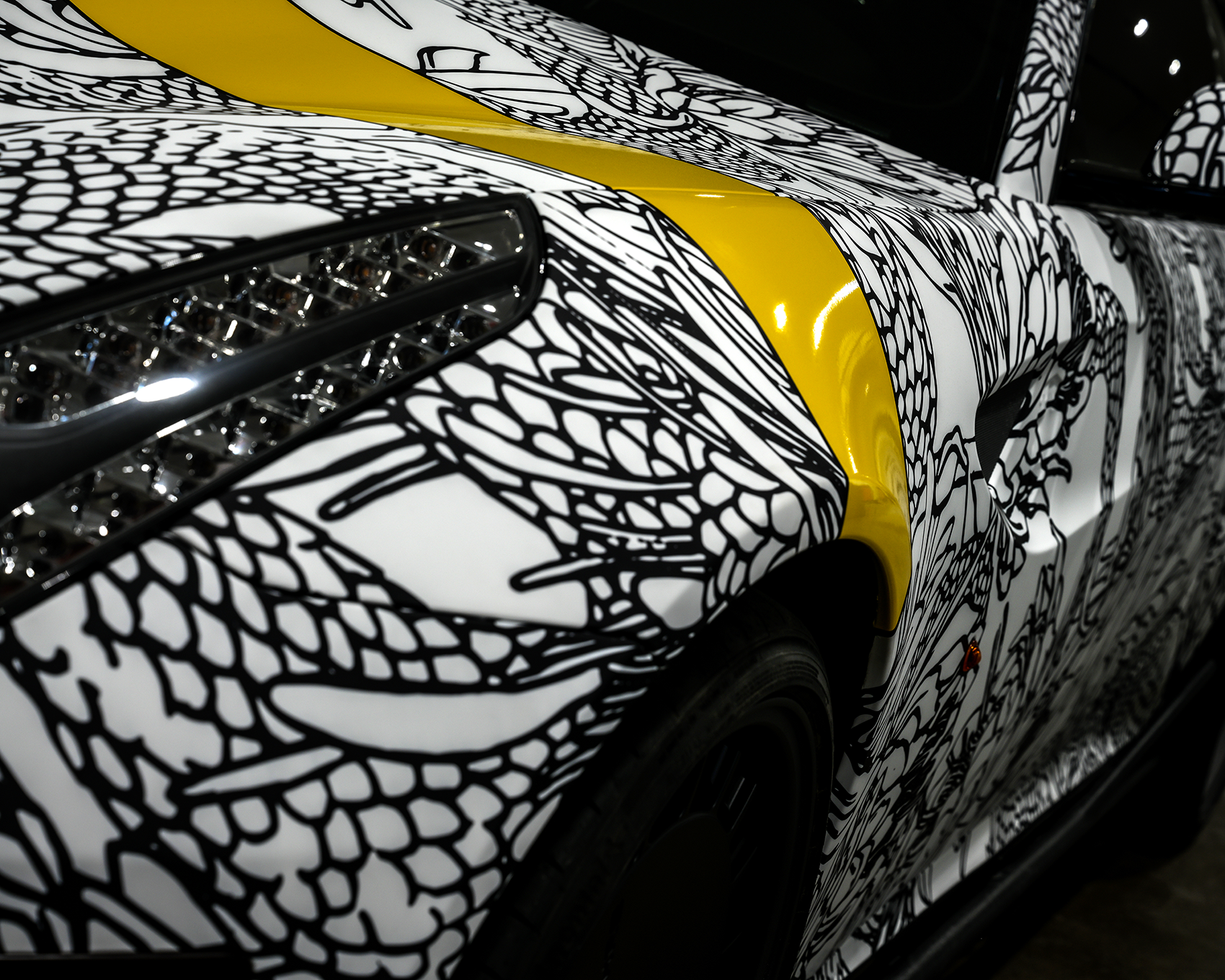 Heritage on the Hood.
A distinctive yellow racing stripe runs horizontally across the bonnet. Paying homage to the golden age of racing, Rob Walker's Scottish racing team's 250 GT SWB Ferrari in the 1960s ran with that same distinguished racing stripe. This iconic stripe is a testament to rallies past an present - as we take One More Run Against The Sun with goldRush Rally 2022.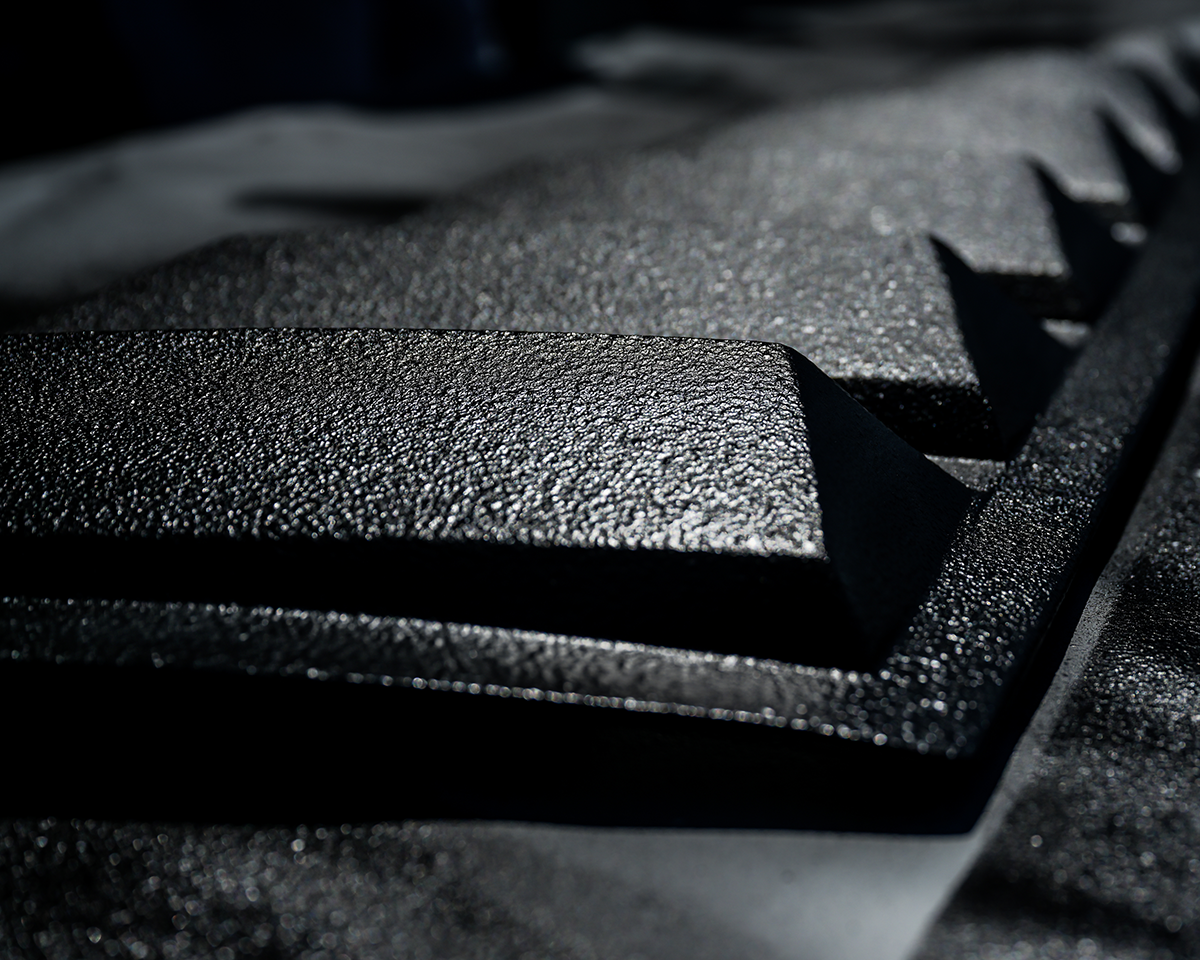 Serpens Specs:
3 Door Shooting Brake 
F140 EB 6,262 cc (6.3 L; 382.1 cu in) 
Naturally aspirated direct-injected 65° V12 engine
7-speed dual-clutch transmission paddle shift  
4RM 4WD system, 50% lighter than a typical 4WD system 
0 to 60 in 3.7/secs
ARGOS
A partnership with Boston Dynamics.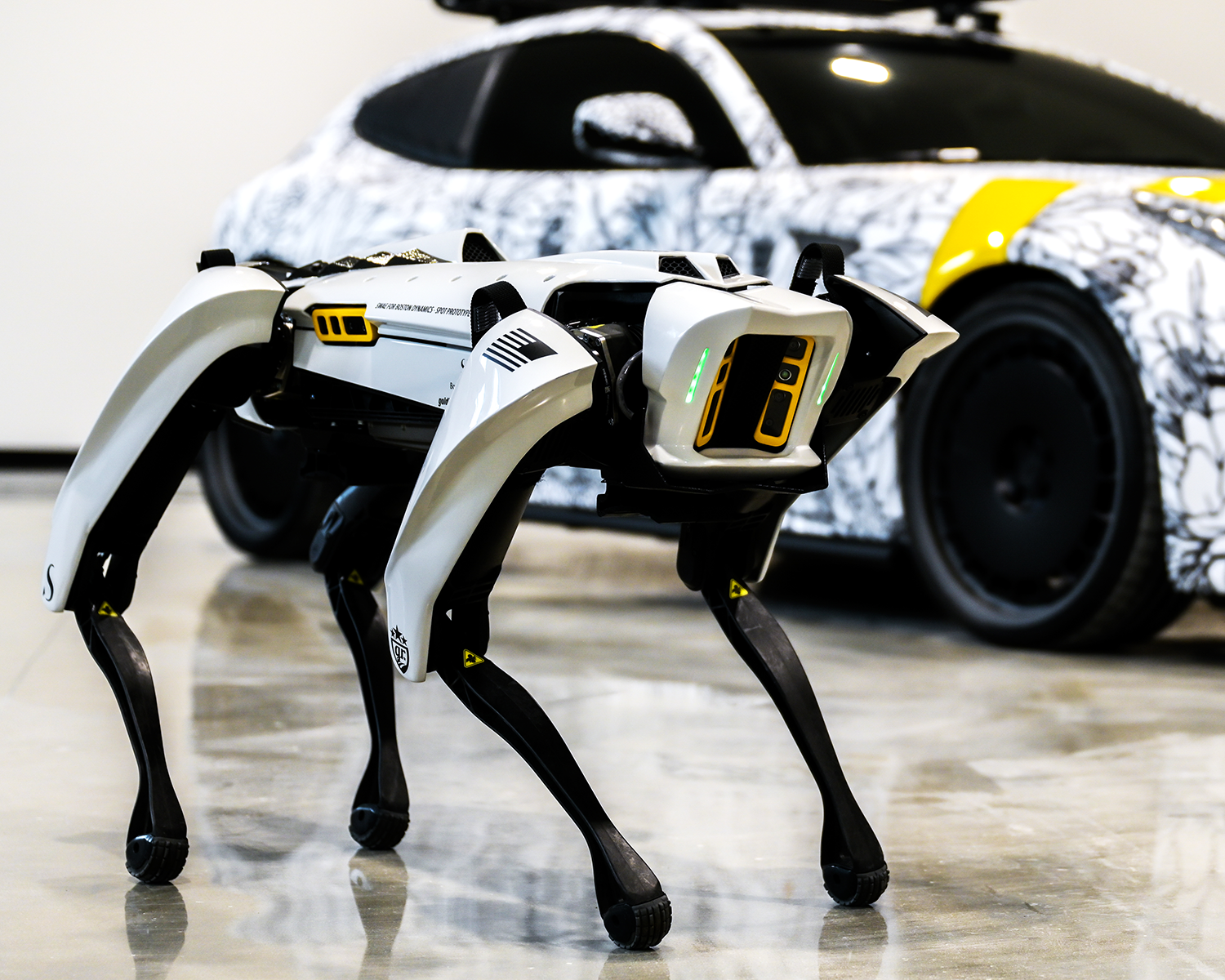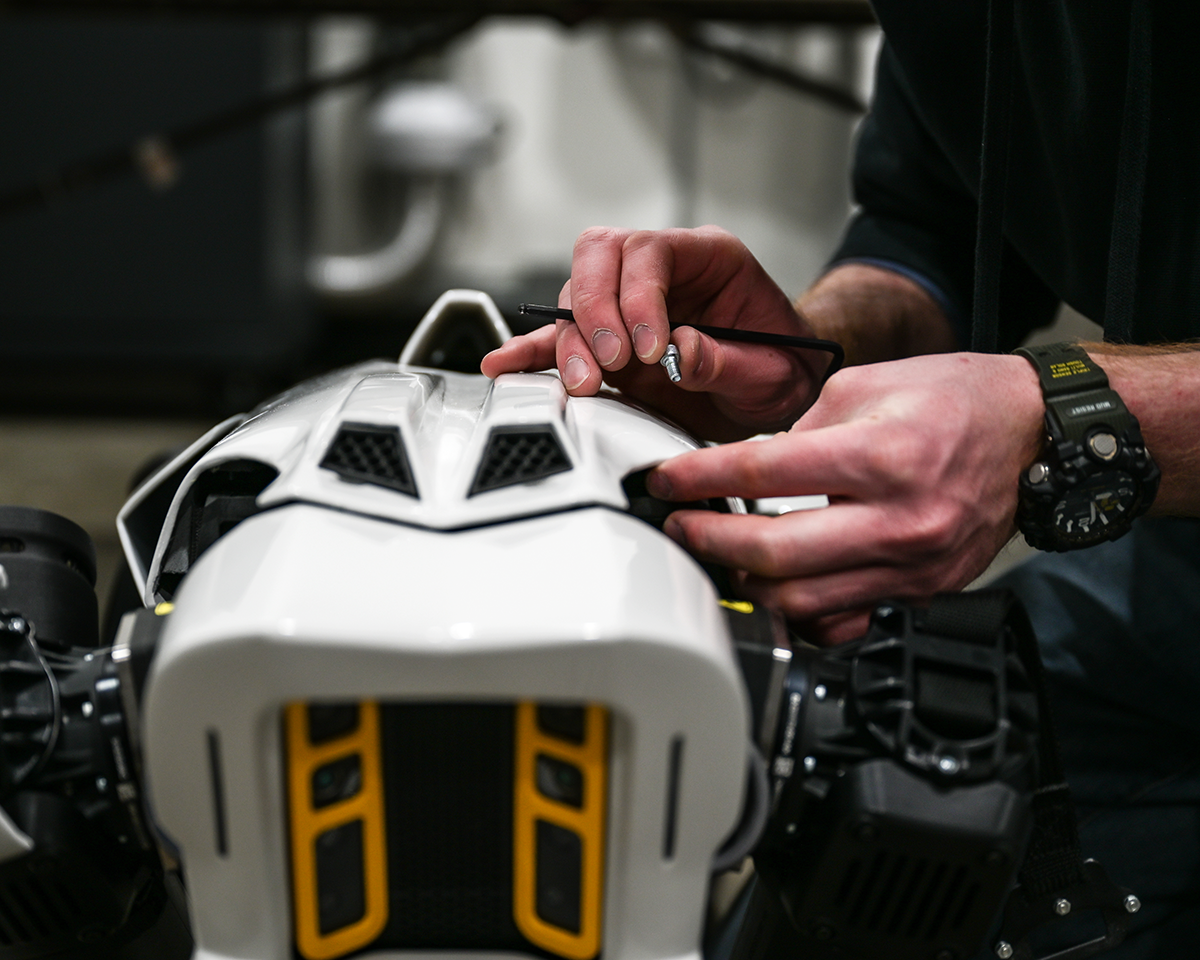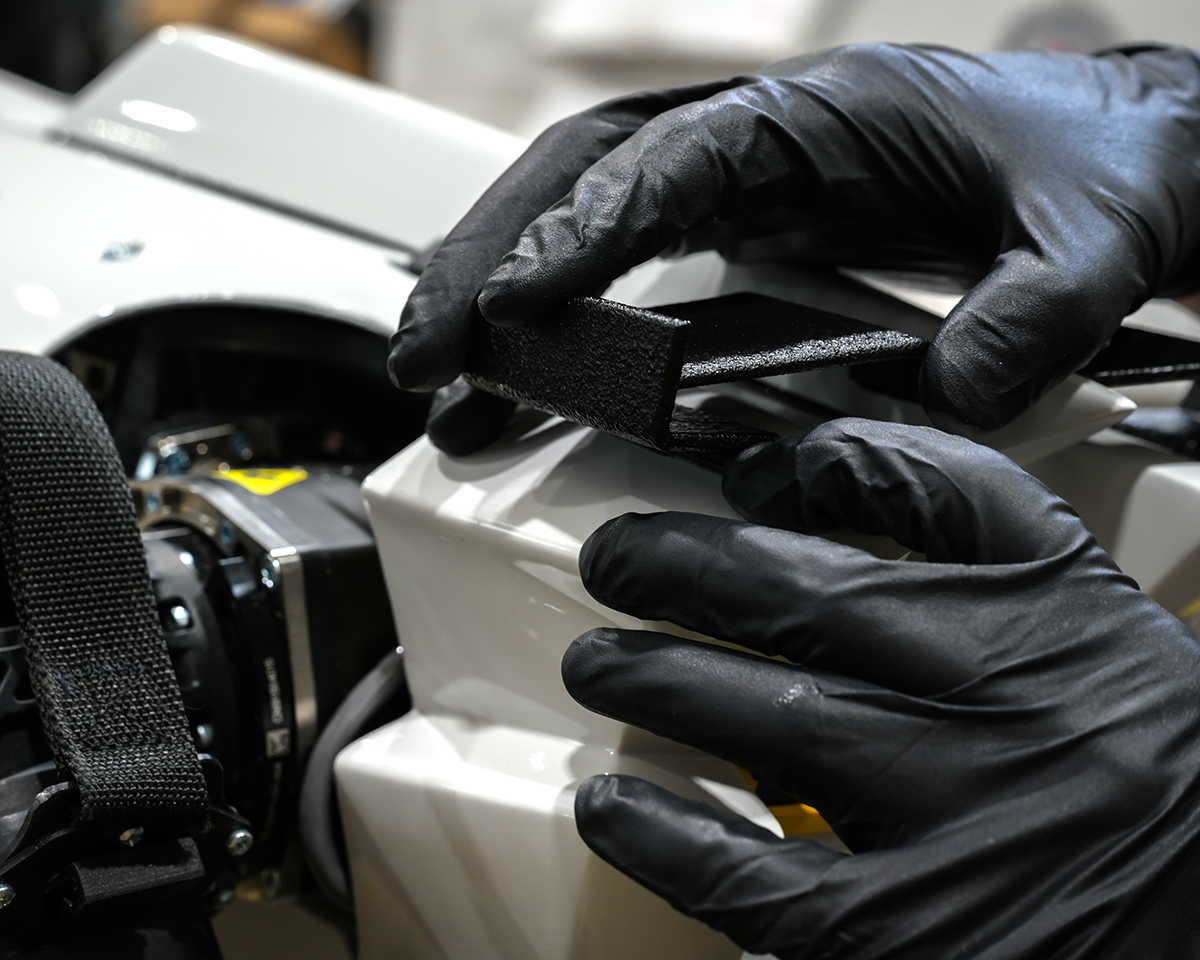 A revolution in robotics, Spot was first revealed to the world in 2016. Since then, the industry leading engineers at Boston Dynamics have continued to push the limits of whats possible for their four-legged friend. In paying respect to their dedication and pursuit of innovation, SWAE partnered with the robotics company to bring a special guest to goldRush Rally 2022.
The re-imagining of SPOT's body kit was just as intricate as the design of the vehicle. Purpose, aerodynamics, and style were critical considerations. Designer Jackson Wynne went through reams of tracing paper as we created rendering after rendering. The final design, developed over the better part of a year, is perfectly in sync with the form and function of SERPENS.